Back to School: a time of joy for many parents, but a time of intrepidation at the onslaught of chaos. The new school year brings back the crazy schedule, the homework, the practices, the games, the lessons. So much! How do parents keep up with the chaotic schedule and still get dinner on the table?
Easy dinners, that's how!
One of my favorite Easy Go-To Dinners is Chicken Alfredo. The prep is minimal and the finished product is fantastic! You've got flavor, protein and possibly even some veggies if you dare to throw in some broccoli! Just put these few items on your next grocery list, buy a nice crusty bread to go along with it, and you've got yourself a simple Weeknight Meal!
Again, sometimes the easiest meals are the ones so simple that we overlook them. Don't knock the easy meals!
1 box of Spaghetti, cooked and drained according to package instructions

1 jar of Alfredo Sauce

1 package of Perdue Short Cuts Oven Roasted Chicken (or Steph's awesome and easy Slowcooker Shredded Chicken – make it on Sunday and use it all week!)

Pepper
1. Place cooked spaghetti in a serving bowl. Pour jar of Alfredo Sauce over the pasta, and toss to combine. Spread chicken bits over Pasta-Alfredo mixture. Sprinkle with pepper to taste.
Optional: Defrost and steam box of frozen broccoli and add to the meal for Chicken Broccoli Alfredo (one more way to get your 5 a day!)
How simple is THAT? To make your life easy, create a Meal Rotation, and rotate it every 2 weeks. Add this Easy Chicken Alfredo to keep it simple and sweet 🙂
Have a good Back to School Week!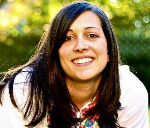 Steph spends most of her days tripping along the road of parenthood, occasionally getting it right along the way. You can read more about Steph's life and recipes at her blog,
Confessions of a Stay-at-Home Mom
.