Although the economy is rebounding, many families are still trying to find creative ways to have fun, travel and make memories together. While some are able to pull everything together for a big getaway or grand vacation, most of us are staying local this Spring and Summer, finding new and exciting ways to explore the areas around us.


We've done travel reviews in the past, which you can find on the right side bar: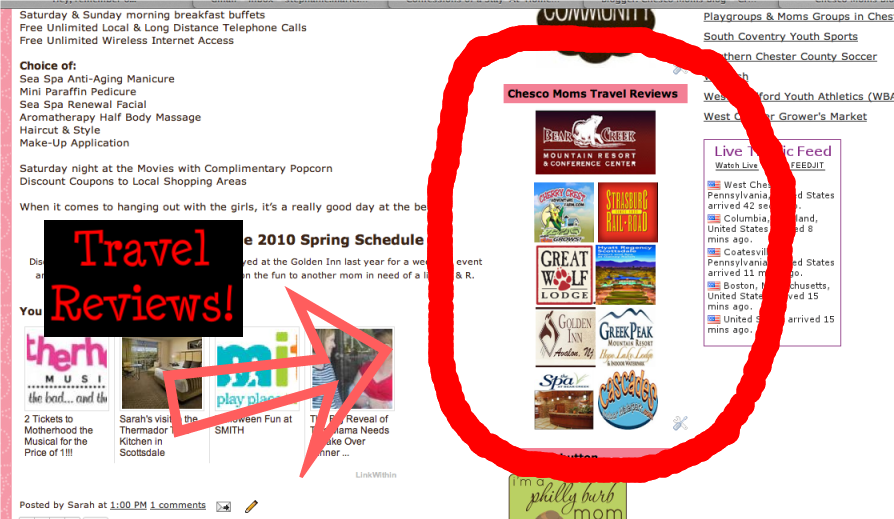 But over the next few months, we'll be sharing our reviews on some of the best Staycations in the Philadelphia region. Whether you visit for the day, stay over night, or make it a week getaway, there are tons of places in our area to make a great local vacation!


First up is Peddler's Village. One of our contributors, Steph, went back to Peddler's Village for an overnight with her husband, Bill. They had a fantastic time trying out the newest Village restaurant, Buttonwood Grill.


Check out her post to find out how Brisket Fries changed her life and why Steph thinks eating Apple Cobbler out of a mason jar topped with ice cream is the bee's knees. Also, watch her video on The Top 5 Reasons why she loves the accommodations at Peddler's Village!


~~~~~
Steph's Peddler's Village Review
Last weekend, Hubby and I had the awesome opportunity to do another stay at Peddler's Village. It had been almost 2 years since our last visit (and review), and the amazing people up at Peddler's Village asked if we'd like to check out their newest culinary addition: Buttonwood Grill.
We said, "Sure."
But really, we jumped up and down and squealed and high-fived, because we really like it up there.
In the last review, I did a comprehensive breakdown of the Food, Lodging and Dining. Given that foundation, I'll be focusing this review mainly on the new Buttonwood Grill, as well as a new perspective on our accommodations!
Here is the video on Peddler's Village accommodations. Free wine? Awesome toiletries? Close to Philly? Sounds good to us!
Stay tuned for more Philly Area Staycation Reviews in the near future. In the meantime – we want to know:
Have you been to Peddler's Village?
Do you plan on visiting in the near future?
Leave a comment and tell us all about YOUR visit!