It

see

ms like just y

esterday that those images of the devastation that the January 12th earthquake in Haiti crossed our TV's, computers,

newspapers

and magazines. Yet, here we are, one full year later and the situation in Haiti has not improved much since the disaster

occurred

.
Cited as the 3rd deadliest earthquake in history, over 316,000 people were killed and more than 100,000 injured. In the aftermath, much of Haiti's infrastructure such as roadways and communications capabilities were decimated. Schools, hospitals and other vital functions in a country already plagued with problems were flattened. There were lines and lines of people needing medical attention, food, and wanting to find missing loved ones. In the months that have followed, there is still need for many of these functions to be replaced, repaired and working effectively.
Sometimes when a natio
nal disaster strikes, it feels like it is hard to make a real difference and help those in need. Sending a check to a
relief
foundation doesn't always feel impactful and isn't always possible for us financially. When national/world wide organizations intervene in relief efforts, you aren't always sure how your donations are being allocated.
Then I found out about Heart of Haiti, a DIRECT way to help Haitian artisans make a living and help them both survive and thrive in these difficult times! Now you can shop for a cause … it's a win-win situation. Through the Heart of Haiti project, you can purchase beautiful hand crafted pieces such as picture frames (my favorite is pictured below … it's called Tree of Life), napkin rings, decorative bowls, mirrors, trays and canvas prints. 22% of your purchase will go directly to the artisan to help them feed, clothe and educate their children and families in the wake of this devastating event.
PLEASE take a minute to support our global "community" and check out these beautiful pieces available for purchase. You can make a real and direct impact in someone's life.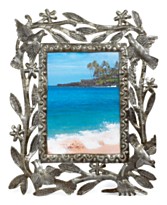 I will be purchasing this picture frame as a gift. I ADORE it and it's message!